https://secureservercdn.net/198.71.233.163/01c.bb1.myftpupload.com/wp-content/uploads/2018/06/33709767_1798706713557403_3536562701016760320_o.jpg?time=1597329619
2048
1367
Kevin Wong
Kevin Wong
http://0.gravatar.com/avatar/0f1f1159d9291d5b8810648bd3ebbf4a?s=96&d=mm&r=g
2017 was an interesting season for me – it would be a first for many things: first full year as an instructor with Pinnacle Advanced Driving Academy (PADA), first full season of Ontario Time Attack (OTA) and first full year of flat out hard tracking my Honda S2000 still in stock form to allow myself to find my own form.
And find my form I did. I managed to podium in all but one event and even come in 2nd a few times but was typically behind first by a decent margin. I looked back at myself and asked one painful question: am I ready to move on past stock? Am I truly ready to season to taste?
Countless hours of winter were spent pouring over my videos from the past season and after a few debates with fellow instructors from PADA, I decided that I would at least throw in my offset ball joints (for more front end camber) and finally decide to go full 'square' tire setup. For those of you who don't know what that means: same tire sizes across all four corners of my car (as opposed to the original factory staggered setup with 225/45/17 up front and 255/40/17 in the rear). I also addressed an engine mount issue which cost me 1st place at OTA's second last event of the year Shannonville Motorsports Park (evidence here).
Another first for 2017 was that I unwittingly became Chief Timer for OTA as the person who was originally supposed to take over left the province. Being the honorable dimwit I was, I volunteered for the role and so 2018 would be a new year of even more firsts…
---
Sweet Christmas, that's a lot of people in Grand Touring 3, I thought to myself as I spent Friday night prior to OTA event #1 (at Toronto Motorsports Park -TMP) building the timing database. The timer's role is to ensure that everyone who registers as a competitor gets slotted into the right class with their Performance Index (PI) being entered correctly as OTA uses the iPAX scoring system to balance out those who run fairly stock cars versus those who run highly modified ones.
With a grand total of eleven cars and two incumbent champions (one from GT3: Alex and his RX8, one from GT4 and now moved up to GT3: Eric and his race Miata), it was going to be an utter dark alley fist fight for me to even podium in this class. Then there were the new guys – one of whom I know quite well to be an excellent autocrosser – Joseph with his Civic Si. And then the dark horse: (or should I say dab unicorn?) Deep with his super gutted and liveried up GTi. As the home base for PADA, TMP is my home turf to defend. The irony of teaching at this track is that I spend more time in the right seat than I do driving it. While that helps to know the track, it doesn't really qualify so much as actual driving time. It was time for me to really reach deep (hi Deep) and pull out all the stops to put my best foot forward come race day.
---
Setting up the timing truck with OTA was thankfully a somewhat easy task with the help of the former Chief Timer, Perry, showing me all the ropes (literally – there are ropes) and nuances of the laser trap and RFID readers to ensure all competitors are picked up as they pass the start/stop line just on the exit of turn 12. The opening morning portion for most competitors involves open lapping (thus passing is allowed) and everyone is timed to get a relative idea of how to grid everyone for the actual competition in the afternoon. What that means is that I'm busy ensuring the timing system is capturing everyone's laptimes and if not, sending someone out from the truck to flag down whoever is not being captured to ensure their RFIDs are in the right place. It ensures competitors will get time, keeps the day humming and totally…
SHIT – DID I JUST MISS MY GROUP'S SHAKEDOWN LAP???
Run fat boy, run.
I huck my fat ass over to my car and line up to get on track with the wrong group (of course they're a couple of classes faster than me), totally unprepared for what will be my first time out on track with a full square 255/40/17 setup on my S2000.
---
Everyone always talks about snap oversteer and how a car's back end just suddenly comes out on them and that it is the car's fault, magically taking the driver out of the equation. Totally incorrect. I'm in charge and I totally send the car sideways into turn 3 and hit the curb pretty hard but straight on. Thankfully the car survives and drives just fine. Thank god Honda built this thing damn well.
It was a revealing and humbling two sessions – my RE71Rs do NOT like high temperatures and high pressures. Point taken. Going to drop this sucker down to 30 / 29 psi, front / back hot. At first, I was nowhere near my 2017 personal best time of 1:25.855 and was likely dead last in my lapping session group but I managed to whittle it down.
As I returned to my fellow timing volunteers in the timing truck, a few comments emerged about how Deep and his GTI were just ahead of me.
"Those Who Are Last Shall Be Sideways and Smiling" – some Brit guy.
Sideways yes. Smiling? Not so much.
---
Lunch rolls around and with the help of event registrar, Gary, I now have a sorted afternoon grid list (based on everyone's morning lap times) and making sure the pit marshal and race steward gets them.
I am again reminded of the fact that Deep was just in front of me and last year's GT3 champ, Alex, right behind me. Not quite the sandwich I prefer but …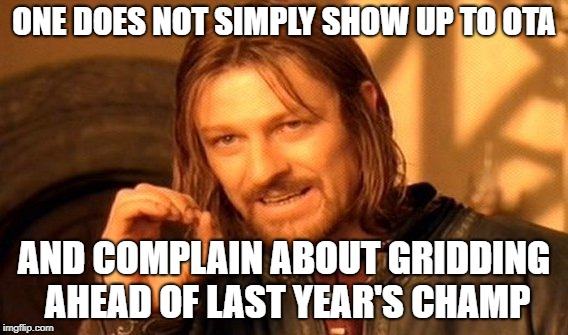 So time to go Super Saiyan and just seeeeeend it.
---
Just as I line up for my first hot session (of three), it begins to rain. Of course.
The thing with rain is that you want it to dump heavy and hard quickly in order to wash the track and all the oils, sand and whatever that does not maximize grip right off the track. Instead, we get the worst kind of rain: a light drizzle. Not enough to turn on wipers for, but just enough to moisten the track and bring up all the slippery bits to the surface and keep it there. The first competitive hot session starts and I'm totally sideways into most turns and out of them. Two years ago, this amount of slip angle would have me totally fill up several adult diapers on a 5 lap session that OTA allows for each competitor per session (1 warmup, 3 hot laps, 1 cooldown). Thanks to my fellow instructor, Val – I've since learned a key thing.
So I put on a bit of a drift show for the marshals (hi Ping).
But I'm still stuck in 2nd place at the end of the 1st session – still behind the Dap Unicorn that Deep was driving…
---
Thankfully, the drizzle was the last bit of precipitation we would see at TMP for the day. As the sun finally revealed itself, I actually remembered to drop my tire pressures and settled it well within my targets for hot pressures. As I watched Deep take off, I did a simple breathing exercise and rolled out as soon as the green flag dropped. The ensuing session as captured below, was a perfect combination of going to the limit, compensating for quick errors and a couple of recoveries that would have stopped my heart 4 years ago. I don't even flinch anymore.
The thing with being the Chief Timer is that when you've completed your stint, you wind up rushing back to the truck to follow up with the other timing volunteers to make sure everything is still running smoothly. As I approached the truck, all of them turned to me and as deadpan as possible, Joe, a fellow PADA instructor and timing volunteer, turned to me and congratulated me for taking ahold of 1st place in GT3 with an all new personal best of 1:23.765 – a whopping 2 second reduction from my personal best last year. Alex was still behind me and Deep was dangerously close behind with a 1:23.800. The day was not over yet.
---
As luck would have it, Deep wound up getting some technical issues and dropped out of the third and final hot session and in my euphoria of sitting in first and watching the race, I almost forgot to actually, you know, race. I scrambled to my car and totally forgot to let the air out of them and my third session was a total mess. Thankfully, Alex didn't get into the 23s and my victory was secure.
I had defended home turf.
As the race day closed on time with no notable incidents, the competitor and OTA official in me relaxed and I could finally enjoy the moment. It was a great day, everyone was safe, there were some very tight competitions amongst the classes (shout out to Jesse and his 330 for best time in GT4) and everyone thoroughly enjoyed some of the best grassroots driving in Ontario.
In a lovely turn of events, PADA instructor-in-training, Daniel and his Toyota Echo hatchback, easily took T3 with an amazing time 1:30.133s, more than a full second above 2nd place. It was a glorious moment as the two of us stood side by side as champions for the day.
As final unofficial results were read and medals were handed out, Deep and Alex, both class acts, congratulated me on the win.
The thing with grassroots racing is that all the competitors do this for the love of the sport. No one is going home with a sponsorship or a paycheque. We all do this for the comraderie, fun and to challenge each other to be our very best. A week after the race, I posted the above video of my fastest run that day and I remembered that Alex had mentioned that while he did break a new personal best, he seemed to have hit a mental wall and was making mistakes. I reached out and told him that I would gladly coach him to eke out a new personal best, even if it means beating me. I genuinely meant every word of it and he knows it.
As someone who enjoys being competitive, I've always felt that the best competitor I can always face is myself. In making others quicker, I force myself to improve and so I truly mean it when I say: let us at Pinnacle Advanced Driving Academy help you find and exceed your limit safely.
Ontario Time Attack provides the perfect venue for you to safely explore in a competitive environment and even just the smallest bit of coaching can go a long way to allowing you to truly find out what you and your vehicle are capable of. I'm sure you'll go home smiling regardless of the win or not. I know I did last year.
With events #2 and #3 right around the corner for June 9th and 10th at Mosport Driver Development Track, I'm happily nervous again. This is where Alex is really, really good – having just nabbed 3rd place at another series just this past weekend. Deep's newfound confidence is turning him into a legitimate GT3 threat. And then there's Eric Rier who's quietly sharpening knives in the back. I look forward at doing battle again.
Oh and this time I won't forget to lower my tire pressures.
One down, five to go.
-Kevin Wong